M27, The Dumbbell Nebula (2014)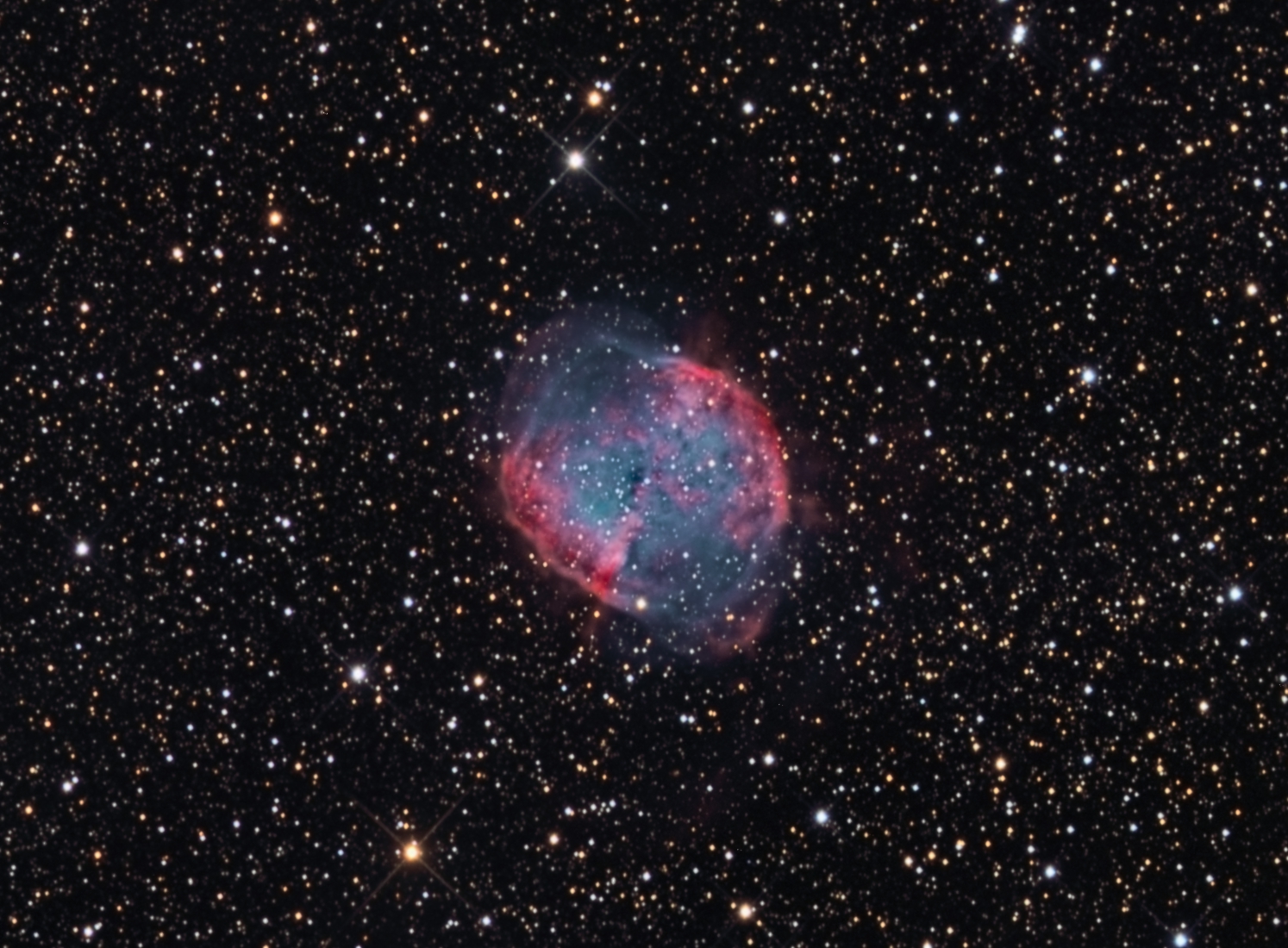 Click image for full size version
June 30, 2014 – SkyNews Magazine Photo of the Week July 4, 2014; Featured image in "This Week's Sky, August 11-18 2014" at SkyNews Magazine website
Almost 21 hours of light went into making this picture of the Dumbbell Nebula, acquired between 2011 and 2014.  This image shows detail I have not captured in my previous attempts at this showpiece object.  M27 is a classic example of a "planetary nebula," so named because they looked similar to planets to early observers.  M27 is known as the Dumbbell Nebula because of its visual appearance through a telescope.  In my 4″ refractor it looks like a ghostly apple core.  In my 20″ reflector it looks similar to the image, but with little or no colour, and less detail and contrast.  It can also be found easily with binoculars.  It is found in the constellation Vulpecula ("the Little Fox"), which is well placed for observing shortly after dark at this time of year.  The nebula's colours in this image are due to gas thrown off by the dying star at its centre.  This white dwarf emits radiation that causes the gas to glow in visible light. Hydrogen emits mostly red and oxygen mostly green-blue light.   Like all planetary nebulae, the Dumbbell will gradually expand and dissipate, becoming fainter over time.  I guess we're lucky to be here at this particular time in history and able to see it.  The dumbell is about 1360 light years away, and is 10,000-15,000 years old.
Tekkies:
Acquisition, calibration, registration, integration and RGB combine in Maxim DL.  Luminance combined in PixInsight (described below).  All processing in PixInsight.  Acquired from my SkyShed in Guelph, ON.   10″ ASA @ f/6.8.   MI-250 mount for Ha and RGB; Paramount MX for Luminance.  Imaging run for luminance acquisition was scripted using CCDCommander.
Ha  :  12x20m with QSI583wsg (2011)
RGB:  340m total in 5m subs with SBIG STL-11000 (2012)
Lum: 44x15m with SBIG STL-11000 (2014)
Total – 20hr40m
The Ha and RGB master files were aligned, cropped and background corrected with DBE.  RGB was colour balanced  and then Ha and RGB were combined with NB-RGB script.  The HaRGB file was colour balanced and stretched with Histogram Transformation.
The luminance frames were combined using Drizzle combination in PixInsight, with a scale of 2 and drop size of 0.9.  This Luminance master was processed with  DynamicBackgroundExtraction, Deconvolution, HistogramTransformation, HDRMultiscaleTransform (6 pixel scale, with a mask to protect stars), ACDNR and Local HistogramEqualization on the nebula.  Unsharp Mask was applied to the nebula and MorphologicalTransformation was used to slightly soften and shrink the bright stars.
The HaRGB was then registered to the Luminance master.  The RGB-luminance was extracted from the HaRGB file, matched to the Luminance master with linear fit and then combined back into the HaRGB file using ChannelCombine.  Then LRGBCombine was used to add the Luminance master to the HaRGB file.  This HaLRGB file was tweaked with colour saturation and curves.  The image was down sampled by a factor of 2 to restore the original image scale of the luminance.   Image scale is 1.1 arcsec/pixel.