Sh2-86 Emission Nebula (H-alpha)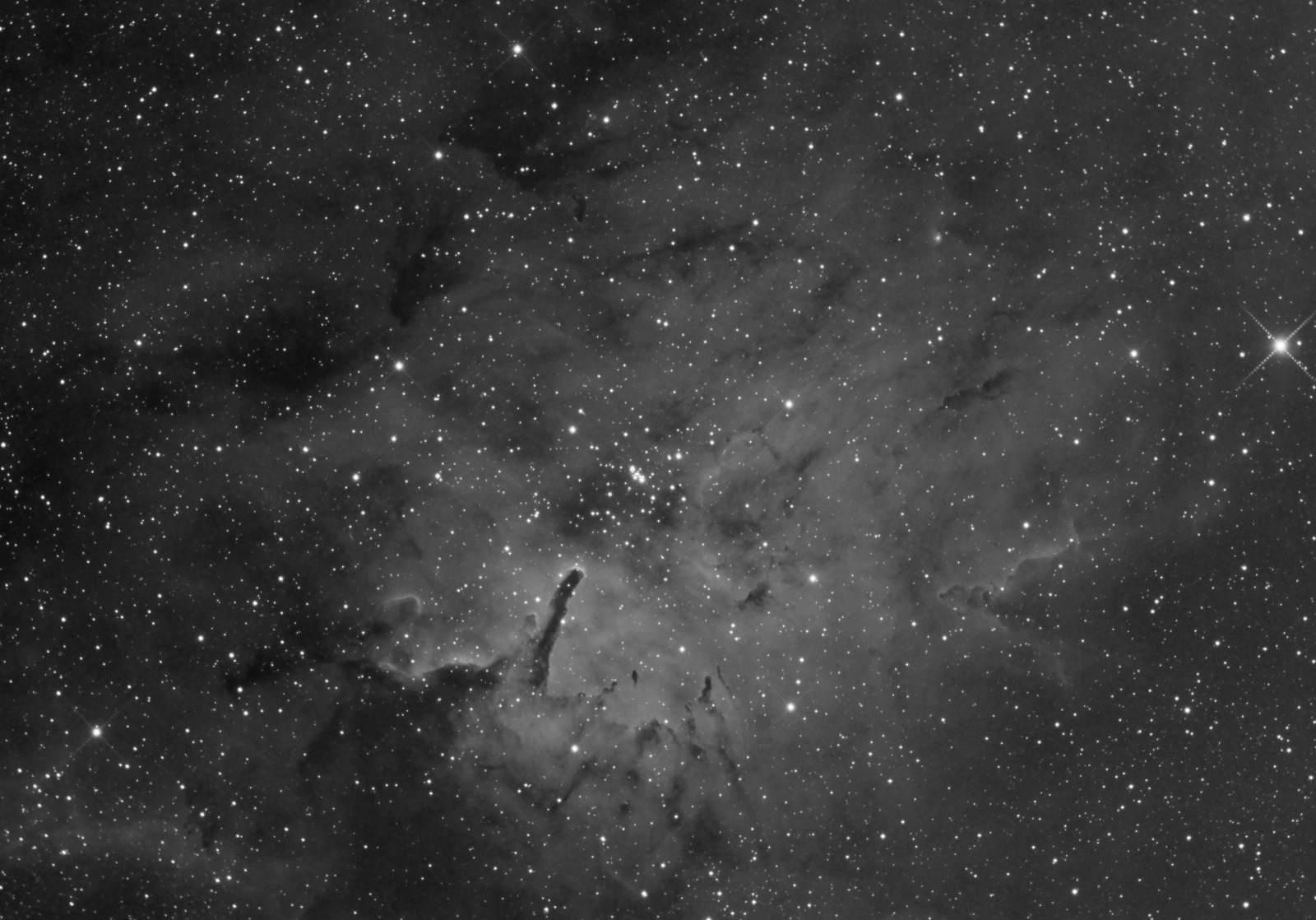 Click image for full size version
August 10 2014
"Best of Monochrome", Journal of the Royal Astronomical Society of Canada, December 2014
For the last several months I have been shooting faint objects from the Sharpless catalogue.  This image (and this colour version) shows the very interesting Sh2-86 (aka NGC6820), a large emission in Vulpecula (the Little Fox).  The roundish central nebula is about the size of the full moon on the sky.  The star cluster in the middle of the nebula is NGC6823, and the stars at its centre are around 2 million years old.  The outer cluster stars are likely younger.  The dark finger-like structure is thought to be caused by erosion in the nebula's gas and dust caused by radiation from nearby stars.  There are similar structures in the Eagle Nebula, sometimes called "The Pillars of Creation."  To give a sense of scale to this image, the open cluster is about 50 light years across, and both cluster and nebula are about 6000 light years away.
This image is an example of what can be achieved even under a nearly full moon using narrowband filters.  See my article on imaging in moonlight for more information.
Tekkies:
Acquisition in Maxim DL. All pre-processing and processing in PixInsight.  Acquired from my SkyShed in Guelph, ON.   SBIG STL-11000 with Baader HaRGB filters.  10″ ASA @ f/6.8 on a Paramount MX.  Guiding with SV-80 80 mm f/6 refractor and cameras Remote Guide Head.  Imaging runs were scripted using CCDCommander.   Moon near full.  Transparency and seeing excellent.
42x10m + 3x20m Ha (total – 8 hr)
The batch pre-processing script was used to calibrate, register and combine the frames.  The image was cropped and background corrected with DBE.  Deconvolution was applied followed by HistogramTransformation, ACNDR (small scale), another HistogramTransformation, and ACDNR (large scale noise on the darkest areas of the image).  The DarkStructureEnhance script was then applied ith default settings, except amount was reduced to 0.25.  Image scale is 1.1 arcsec/pixel.